Little Dixie Regional Libraries encompasses the counties of Randolph and Monroe through its four branches located in Moberly, Madison, Huntsville, and Paris. Each branch is open six days a week, and we can always be contacted at any time through our website (www.little-dixie.lib.mo.us). February is Library Lover's Month and we have a great month-long promotion going on! "Like" our Facebook page in February and each Friday we draw a winner for a prize!
"A Certain Kind of Hero" by Kathleen Eagle (2010)
Two bad boys find redemption when they become unlikely heroes to two very special women and their families.
"Dukes to the Left of Me, Princes to the Right" by Kieran Kramer (2011)
Most women would not be pleased to be labeled a spinster. But Lady Poppy Smith-Barnes isn't most women. In fact, Poppy has invented an imaginary fiancé, the Duke of Drummond, to deter unwanted suitors. A very useful fellow, this duke, until the real Drummond turns up and uses Poppy's ploy to trap her in a betrothal.
"How to Marry a Duke" by Vicky Dreiling (2011) Tristan, the Duke of Shelbourne is a man with a mission: find a wife he can tolerate as long as they both shall live. Love is not necessary--nor desired. But how to choose among a dizzying array of wealthy-yet-witless candidates? Hire London's infamously prim and proper matchmaker. Then pretend she's not the most captivating woman he's ever met...
"In Bed with the Duke" by Christina Dodd (2010) Lady's companion Emma Chegwidden avoids defying society's rules-until she runs right into the arms of the seductive Reaper...a mystery man whose goal is justice. Or is it vengeance? Only one thing is certain: he's far too dangerous for the demure Emma. But some challenges are too tempting to resist...
"Married by Morning" by Lisa Kleypas (2010)
Paid companion Catherine Marks is attracted to her employers' older brother, Leo Hathaway, despite their constant bickering, so she agrees to a marriage of convenience with him, but the secret she is hiding threatens them both.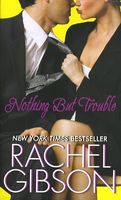 "Nothing But Trouble" by Rachel Gibson (2010)
Angry at the world when a near-fatal car crash takes him off the ice permanently, hockey superstar Mark Bressler is bent on making life miserable for everyone--especially his latest team-provided personal assistant: outspoken, flamboyant, and unemployed actress Chelsea Ross. Chelsea is out to revamp her acting career and badly needs the $10,000 bonus she'll get if she lasts three months with Mark; failure is simply not an option. But neither is the unwanted, totally surprising attraction that springs up between them.